Do you enjoy loose leaf tea, bubble tea, rainbows, lots of purple, handmade jewelry, and fair trade clothes? What about a business with a front door that proudly proclaims the location an LGBT "safe space?" If you answered "yes," then let me introduce you to Compass Tea in Luray!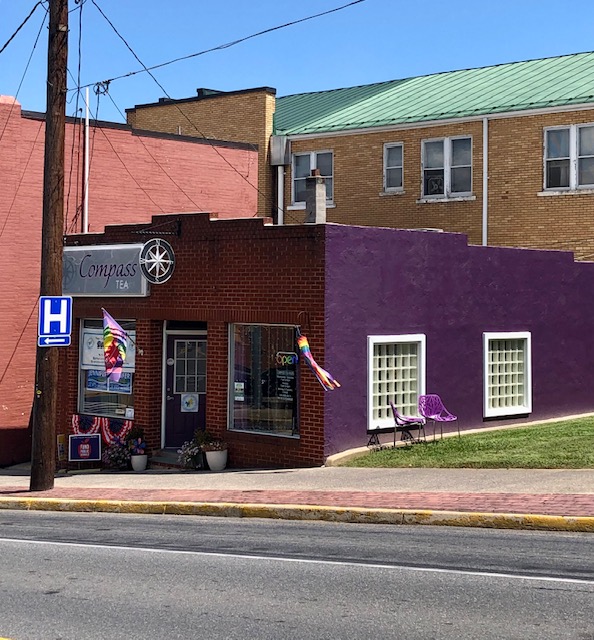 My family and I were head to Luray, Virginia to visit the extraordinary Luray Caverns. (Pictures cannot adequately communicate the grandeur, beauty, and otherworldliness of the caverns. If you have the chance, visit!) After parking near the place we had in mind for lunch, I looked across the street and noticed a quaint brick building. It sported a purple door, a rainbow "Open" flag, and a sign reading "Compass Tea!" Truly delightful.
After lunch, my daughter and I walked back to Compass Tea, enjoying the small-town feel of Luray. The interior carries over the purple theme from outside the tearoom. The owner has charmingly decorated the shop with velvety armchairs and a loveseat. Handmade jewelry–some made by the shop's owner, Lisa Smith, add more pops of color. In an adjoining room, there are colorful fair trade purses, pants, rainbow bandanas, pins, and more handmade jewelry.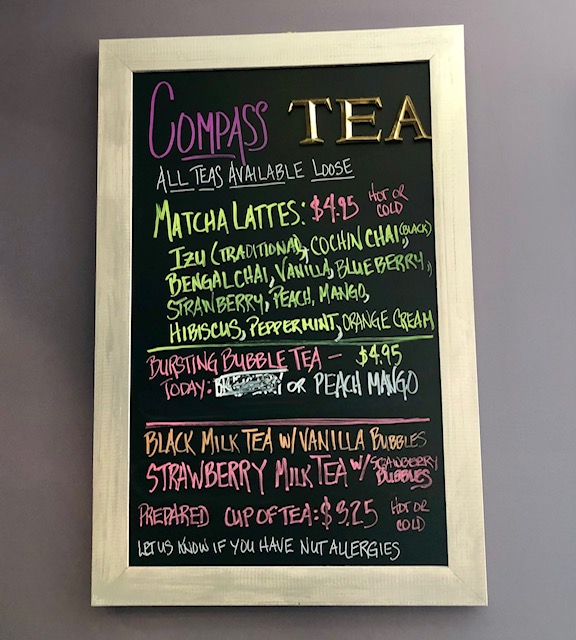 The owner, Lisa, warmly greeted us. She kindly answered my questions about the matcha latte flavors on the board, the different kinds of chai she carries, and the fruit-filled bubbles in her bubble tea. We found out the tea room is vegan, using almond or oat milk in the lattes. I eventually settled on an iced Cochin Chai Latte, in case were wondering. It was delicious! I wish I could have ordered one of everything I inquired about.
Live near or traveling on the other side of the USA? Here's my post about four teahouses in Portland, Oregon. Or, maybe you'd like to read about "What a Teapet Can Add to Your Practice."