When I say I love tea, I emphatically mean the magical elixir you can get from steeping leaves from the Camellia sinensis plant. I don't mean herbal teas or tisanes. I actually have a harder time finding tisanes that I love than teas that I love. Despite my preference for tea, I have been impelled to go looking for delicious tisanes because my desire to drink warm, tasty beverages is greater than my ability to drink caffeine. Sometimes, I need something caffeine-free.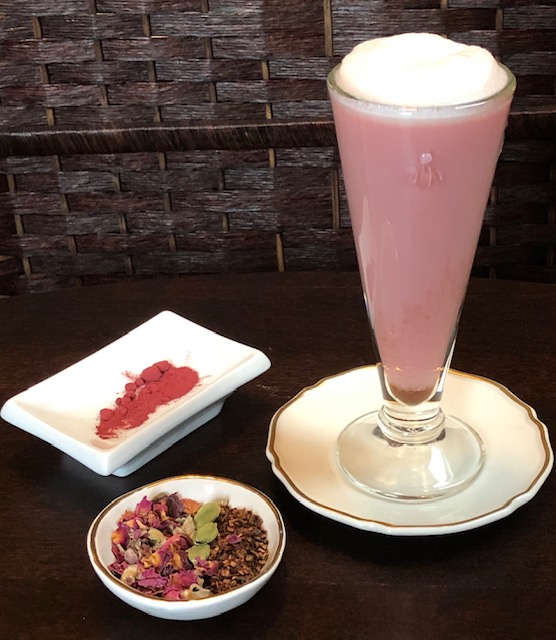 After a lot of experimenting, I have developed a caffeine-free latte that I love. If you enjoy rose and masala chai flavors like cardamom, you might love it, too.
Don't be discouraged from trying the Rose Cardamom Latte recipe if you don't own a frother. You can enjoy it without frothing the milk, or follow my easy directions for how to froth milk on the stovetop. Below the recipe, I will share a few tips to consider for customizing the latte.
Prefer a non-dairy, more mocktail-looking version? Check out my Rose Ginger Bubbler variation on the "Valentines Teas and Tisanes" post. It's a gorgeous, vibrant pink and so good!
Rose Cardamom Latte
a delicious pink latte made of all natural ingredients
Ingredients
1

tbsp

dried organic rose petals (or buds and petals)

2

tsp

honeybush leaves

3

pods

green cardamom

1/8-1/4

tsp

beet root powder

1/2

tsp

maple syrup

(or to taste)

2/3

cup

boiling water

1/3-1/2

cup

milk

(Use ultra-pasteurized milk if you will froth it on the stovetop.)
Instructions
Crack the cardamom pods. Combine them in a mug with the dried rose petals, honeybush leaves, beet root powder, and maple syrup.

Pour the boiling water over the ingredients and steep, covered, for 5 minutes.

While the tisane is steeping, froth the milk.

After 5 minutes, stir the tisane. Then, pour it through a strainer into another mug.

Gently pour or spoon frothed milk on top of the tisane.

Once it's cool enough, sip your latte and enjoy!
A Few Tips to Customize the Latte
The first thing I want to say about this recipe is the beet root powder is what makes it robustly pink. The more you use, the pinker the latte. That said, although I enjoy the taste and complexity that beet root powder adds, I prefer my Rose Cardamom Latte with closer to 1/8 teaspoon than 1/4 teaspoon of beet root powder. Still, it's good both ways.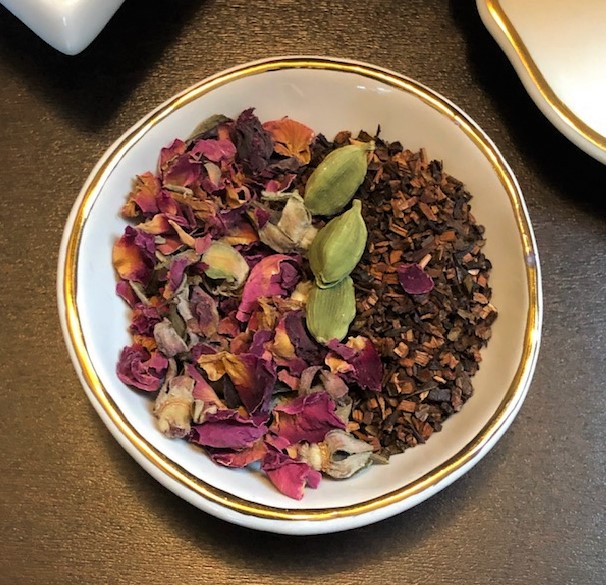 Another thing worth mentioning is the choice of maple syrup as a sweetener. Daniela from Tea Cachai's wonderful recipe accustomed me to using maple syrup in my rose lattes. When I started experimenting with the Rose Cardamom Latte recipe, I thought I would prefer sugar or honey. Although I enjoyed the latte with other sweeteners, I think maple syrup tastes the best.
You might want to adjust the amount of sweetener. I like my drinks less sweet than many people. So, don't be afraid to double the sweetener if you find it too lightly sweetened for your preference.
Finally, of course you could make this latte with a dairy substitute. If you do and find a milk-substitute that you think works really well in this recipe, please let me know. I'll add it to the post and credit you as well.
If you have any questions or try the recipe, please share what you think.
In the mood for an iced, citrus-based drink? You might enjoy my Grapefruit Bee's Knees Mocktail.