This post reviews T Shop in NYC, a serene and charming teahouse where you can enjoy gongfu tea on your own, guided steeping experiences, or a cup of tea to-go. Since fees and services may change over time, please check the T Shop website before you plan your visit.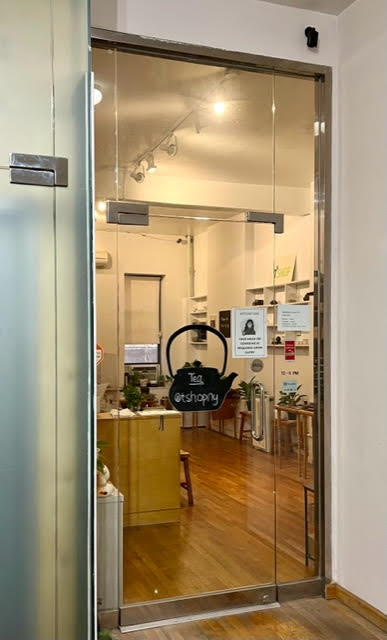 T Shop is a serene and welcoming teahouse on Elizabeth Street in the Nolita neighborhood of Manhattan in New York City (NYC). It opened in 2014. Theresa Wong and Hyun Lee run the shop as partners. They specialize in teas from China, Korea, and Taiwan, with a diverse and tantalizing assortment.
The shop's white walls are calming and austere, a pleasant backdrop. Natural wooden benches and tables add warmth, while clay and porcelain teaware add beauty. I also admired the pops of greenery–pothos ivy (and other plants) in flower pots and soaking in glass jars scattered around the shop.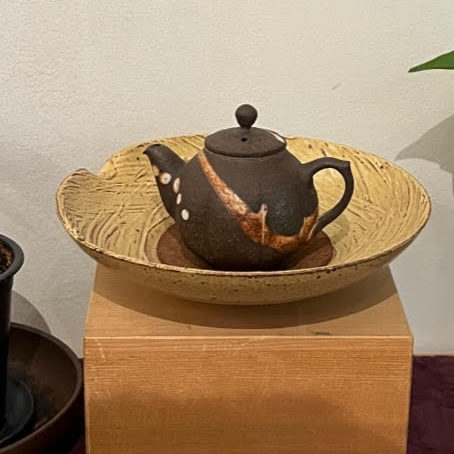 T Shop: Small but Spacious
Although T Shop is not large (at least by non-NYC standards), it feels spacious. The teahouse features seats at a tea bar (used for tastings and guided experiences) as well as a table that seats up to four. In other words, there is not a lot of seating, but that creates the luxury of not having everyone packed together. The arrangement also leaves room to walk around and admire their beautifully curated selection of gongfu teaware and accessories for sale.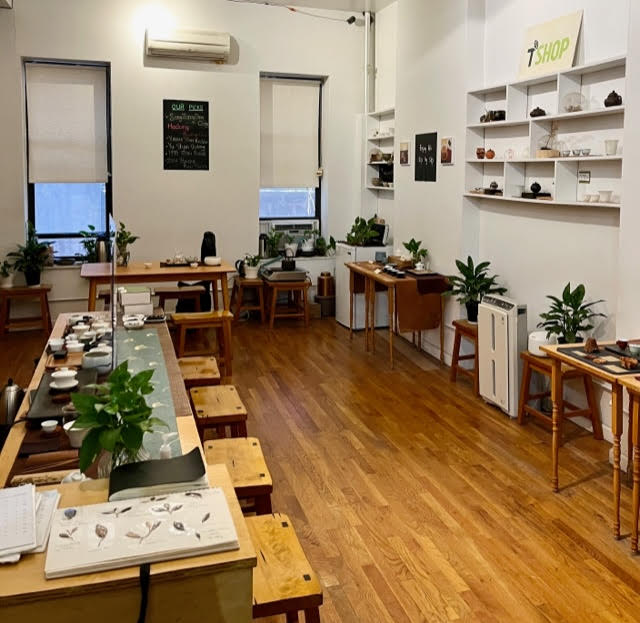 Guided Tasting or Brew at Table
You can visit the teahouse for a guided tasting, "tea journey" (a more elaborate guided tasting), or self-paced "brew at the table." Groups of one to four people can enjoy any of the experiences at T Shop in NYC. Reservations are always recommended. They are required for the Tea Journey. You can, however, stop by and try your luck without a reservation to sit at the tea counter or enjoy brew at the table. (Theresa told me that the shop is usually less busy on weekdays.)
Tea Journey sessions feature three teas and cost $60 per person. For the one-hour brew at the table, there's a flat $20 reservation fee, regardless of whether you are reserving for one person or more. Happily, T Shop applies the table reservation fee toward the pot(s) of tea you order. At the shop, they sell cups of tea to-go, loose-leaf tea, teaware, and accessories. They have an online store, too.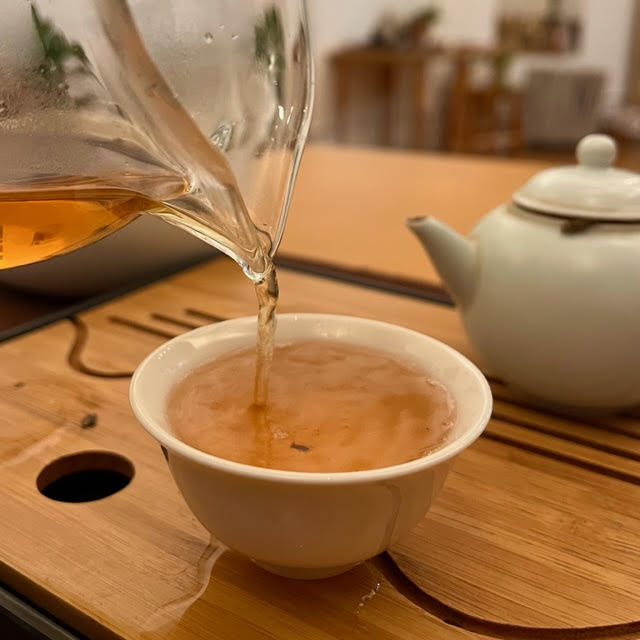 My Lovely Visits to T Shop in NYC
I visited T Shop in NYC twice in the last two months–once alone and once in a small group–both for "brew at the table" sessions. I had a magical, fragrant, and delightfully warming Man Tang Xiang Dan Cong (2021) the first time.
On my second visit, I enjoyed the company of my son and daughter-in-law. We had a very friendly and tasty Korean Hwangcha with notes of cocoa and a Fu Ding Aged White Tea (2017) with a thick mouthfeel and a coconut aroma. It was a lovely way to take a break and connect with each other over high-quality tea and a leisurely hour.
The T Shop co-owners made the visits feel warm and appreciated. The first time, when I visited alone, Theresa thoughtfully answered my occasional questions about the Dan Cong I was sipping and the shop. The second time, when I visited with others, Hyun was very helpful, too. She explained, for example, some of the complexities of the classification of Balhyocha tea in Korea. After my tea sessions ended, I enjoyed chatting with each of them. On the last visit, I learned a bit about the relationships T Shop builds with some of the farmers they work with. I love to hear about those symbiotic relationships!
I heartily recommend T-Shop for a solo visit or in a small group!
Pro-tip: T Shop's name is on the exterior glass door where you enter from the street. When you are walking on Elizabeth Street, you can't see the shop's name until you are standing almost in front of it. Use the street address (247) and you can't miss it! After you walk through that exterior door, there is a short hallway to their interior entrance.
***
Connect through Tea Infusiast: Find out about our Virtual Tea Table series, monthly newsletter, and Spring Celebration Cards.