This post shares how my relationship to tea has both deepened and become less serious.
Not too many years ago, I enthusiastically embraced the punch line of the following joke that you may have seen on social media.
"How do I take my tea?"
"Seriously. Very seriously."
Indeed, a number of my friends even sent me this joke back then. But, I feel very differently now. Although I may be a "serious" tea drinker in one sense, it is no longer the whole story of my tea practice.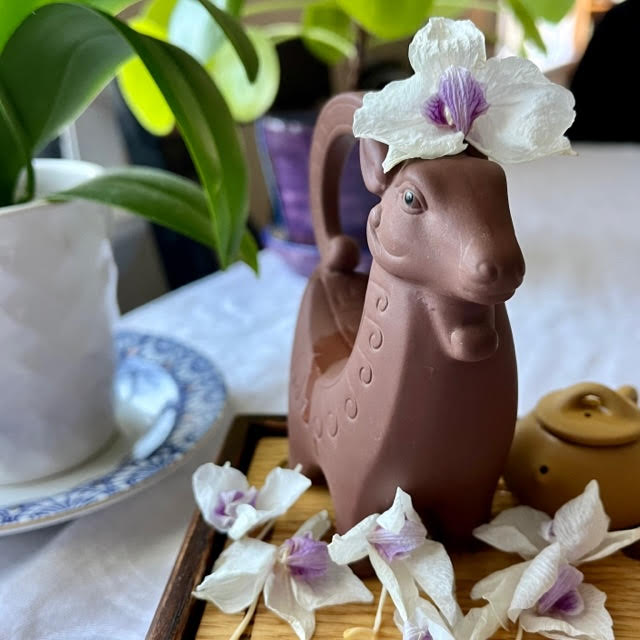 Fun with Tea When My Kids Were Younger
Don't get me wrong! I am even more into exploring, relating to, and drinking tea than I was. I still have *feelings* about what I drink and when. Yet, in expanding my relationship to tea, something unexpected and very welcome has happened. I have rediscovered the soft, light-heartened, and even fun dimension of being with tea. In other words, I tea less serious.
I say "re-discovered" because when my children were small, they had plastic tea sets. I guzzled so many pretend cups of tea and had lots of fun as an honored guest at tea parties with their plushies. When the batteries would run out in the purple teapot that made pouring noises, for example, we would improvise until new batteries were found. There was a lot of smiling, laughing, and fun at those tea parties. If they were serious, it was in the sense of seriously playing. Of course, there wasn't much actual tea.
Now my children are older. One is completely grown. No more plastic teapots and plushie tea parties at my house.
Teaing Less Serious More Recently
In the years since then, I have taken a number of classes, studied, enjoyed a much wider variety of tea, and expanded the ways I prepare it. The tea community became important to me. I started the @teainfusiast Instagram account in 2015. The Tea Infusiast blog launched in December of 2020. I launched Tea Infusiast News, my newsletter, in January 2023. Somehow, in between, fun crept back into my tea life.
I have had a tea pet since 2016. I found Rocco, the clay ram in the photo near the top of this post, as the Year of the Ram was ending. But, when I purchased him, I prized his serious demeanor and the "strength" he radiates. Fun wasn't on my mind.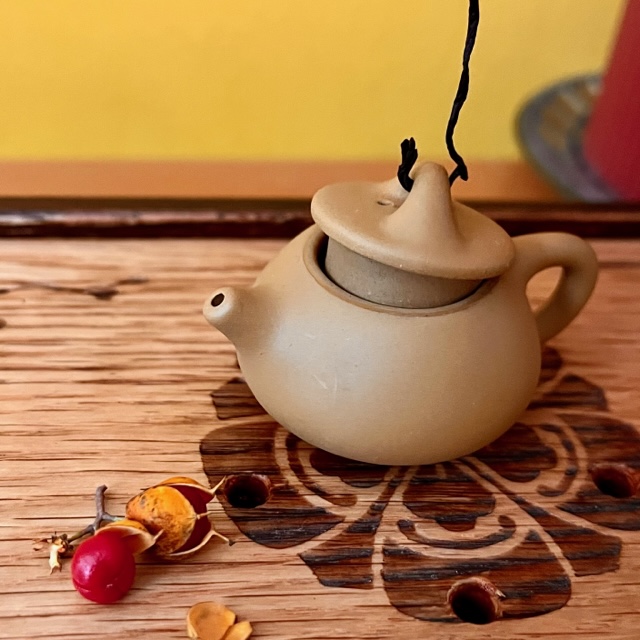 Since then, I've deepened my relationship to tea and learned to be more curious, open, and even playful with it. My adorable micro turtle tea pet, Bonsai, and tiny teapot, Po, joined me in the middle of 2022. Maybe it's the alchemy of three tea pet friends that kicked the shenanigans into high gear. Whatever it was, my heart was ready for it and I'm grateful I've found a way to relate meaningfully and more comprehensively to my tea. To put it plainly, I am happy to tea less serious.
Maybe I'll have to revise my "What Kind of a Tea Drinker Are You?" quiz to reflect this new take on "serious!" Do you ever feel playful with your tea? How do you indulge that impulse?