Have you noticed that some tea companies and organizations have "tea mascots?" I am using the term "mascot" loosely. By that, I mean an animal figure used as part of outreach, branding, or to engage people. Three examples immediately spring to mind—Waddy the Frog at the Charleston Tea Garden, Tippi the Tea Mouse at the East Frisian Tea Museum, and Luff (a bison) at Being Tea.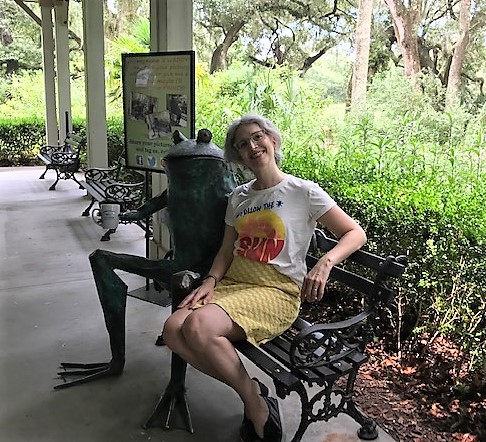 Waddy the Frog
Waddy appears as a big metal statue of a jaunty frog created by South Carolina artist Charles Smith. Waddy's name, as the Charleston Tea Garden explains, is a play on the name of Wadmalaw Island, the part of South Carolina where the tea garden is located.
Waddy holds a mug of tea. He sits on the front porch of the Gift Shop at the Charleston Tea Garden. There's room to sit on a bench next to Waddy (as I did on a 95F day in July!) and have your picture taken. When I visited in the summer of 2021, I was charmed by Waddy. Alas, he suffered an injury after visitors kept sitting on him. So, he now sports a cast on his leg. Waddy doesn't appear any where else at the Charleston Tea Garden except on the porch.
Tippi the Tea Mouse
Tippi the tea mouse–whose name somehow sounds even cuter in German (Die Teemaus Tippi)–is associated with the East Frisian Tea Museum (Ostfriesisches Teemuseum Norden). I first stumbled across Tippi last year when doing research about East Frisian tea. Some of that research eventually worked into earlier posts, "The What and How of East Frisian Tea" and my review, "Two East Frisian Tea Blends."
I've never been to the East Frisian Tea Museum. But, the museum's website makes clear that their tea mascot appears throughout their exhibits and on materials targeted at families visiting the museum. They use Tippi, in other words, as a way to draw children into the museum experience. Below, you can see the gray mouse snuggled in a tea tin as a cuddly stuffed animal, and peeking out of a teapot in an illustration.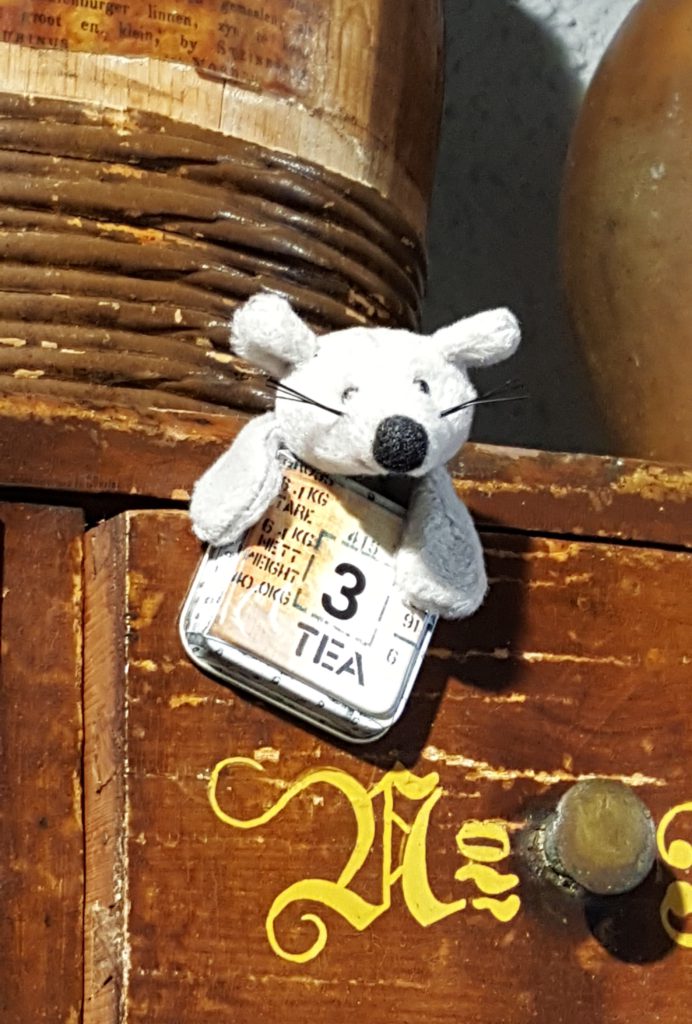 Luff (Buffalo or Bison)
Luff is part of the logo for Being Tea, a tea education and training service run by Sooz Hammond. The affectionate name comes from the term "luffabo." According to the Being Tea website, "luffs are imagined to be domesticated, house-friendly bison." Sooz keeps a "small herd." I've noticed some that are brown and some that are white (AKA Snow Luff). Each member of the herd has its own name, too.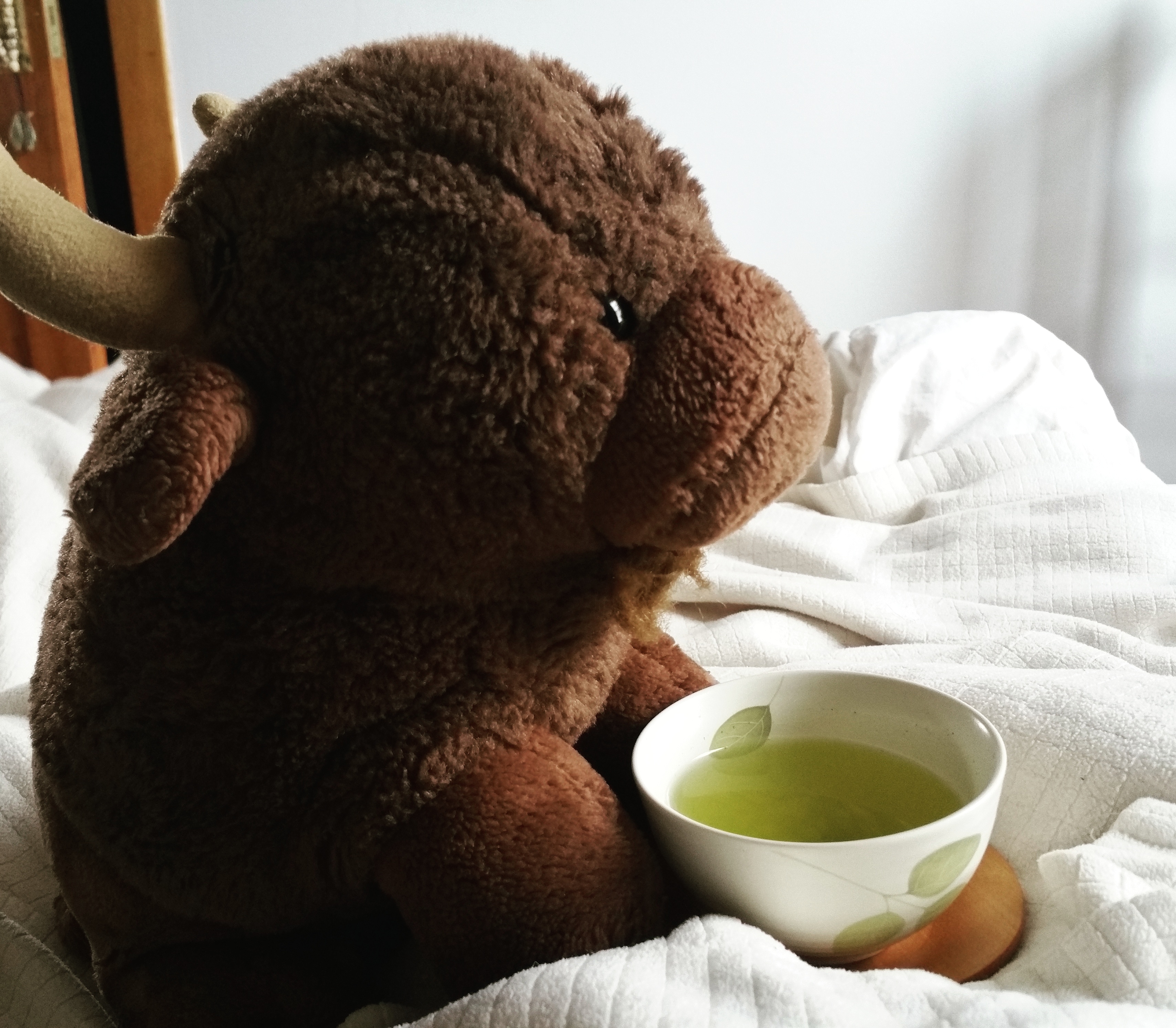 Like Tippi, Luff appears as a plush and in drawings. Even more than the East Frisian Tea Museum, Being Tea integrates pictures of Luff into their photos, stickers, and general outreach. Sometimes, Luff appears on the @beingtea Instagram account. In fact, there is even a @luffabo Instagram account!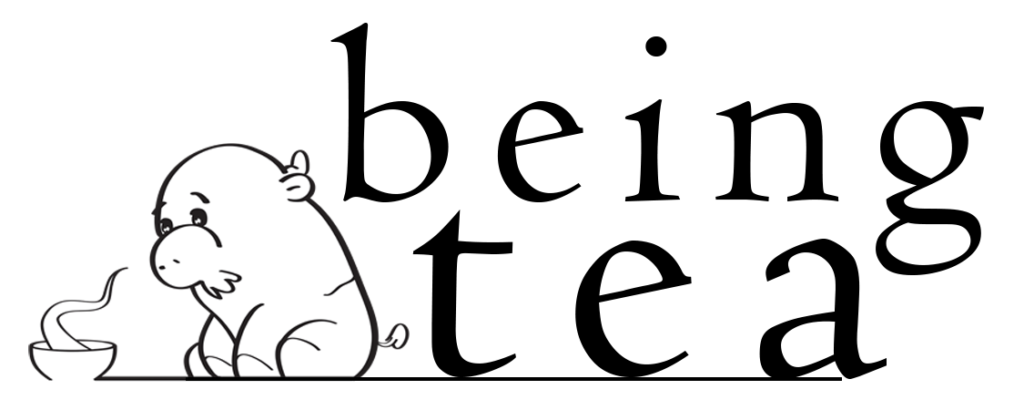 Artist Jonathan La Mantia draws Luff. His artwork appears on the Being Tea logo, stamped on tea subscription boxes, some stickers, and other fun places. (You can see the non-Luff artwork of the artist–it's cool, edgy, and mostly the opposite of snuggly–at @jonathanlamantia on Instagram, or at LaMantia on Linktree.)
Sooz clearly integrates Luff much more deeply into what they do at Being Tea than the Charleston Tea Garden or the East Frisian Tea Museum use their tea mascots. The centrality of Luff is intentional, and completely of a piece with her gentle, trauma-informed, and inclusive teaching style.
Sooz frames Luff as part of "our inner world." They believe Luff relates to that part of us "which knows and gives unconditional love, which imagines and dreams, which understands the disarming power of goodness that 'cute' brings to life." The intimacy we can have with our beloved stuffed animal friends parallels the deep connection and love Sooz radiates for tea.
Closing Thoughts on Tea Mascots
I applaud the use of tea mascots. I particularly think Sooz is on to something with how they share the Luffy loveliness. After all, tea mascots can bring care, whimsy, and connection. Yes-for children. But, can't tea people of all ages also embrace that?
Interested in tea pets? These posts may interest you: "What Can a Tea Pet Add to Your Practice" or "Turtle Tea Pets and the Potter Who Makes Them."
A big thanks to Sooz Hammond of Being Tea for sharing photos and answering questions about Luff, and to the East Frisian Tea Museum for sharing photos of Tippi. I'd also like to thank the Charleston Tea Garden for answering my questions about Waddy.